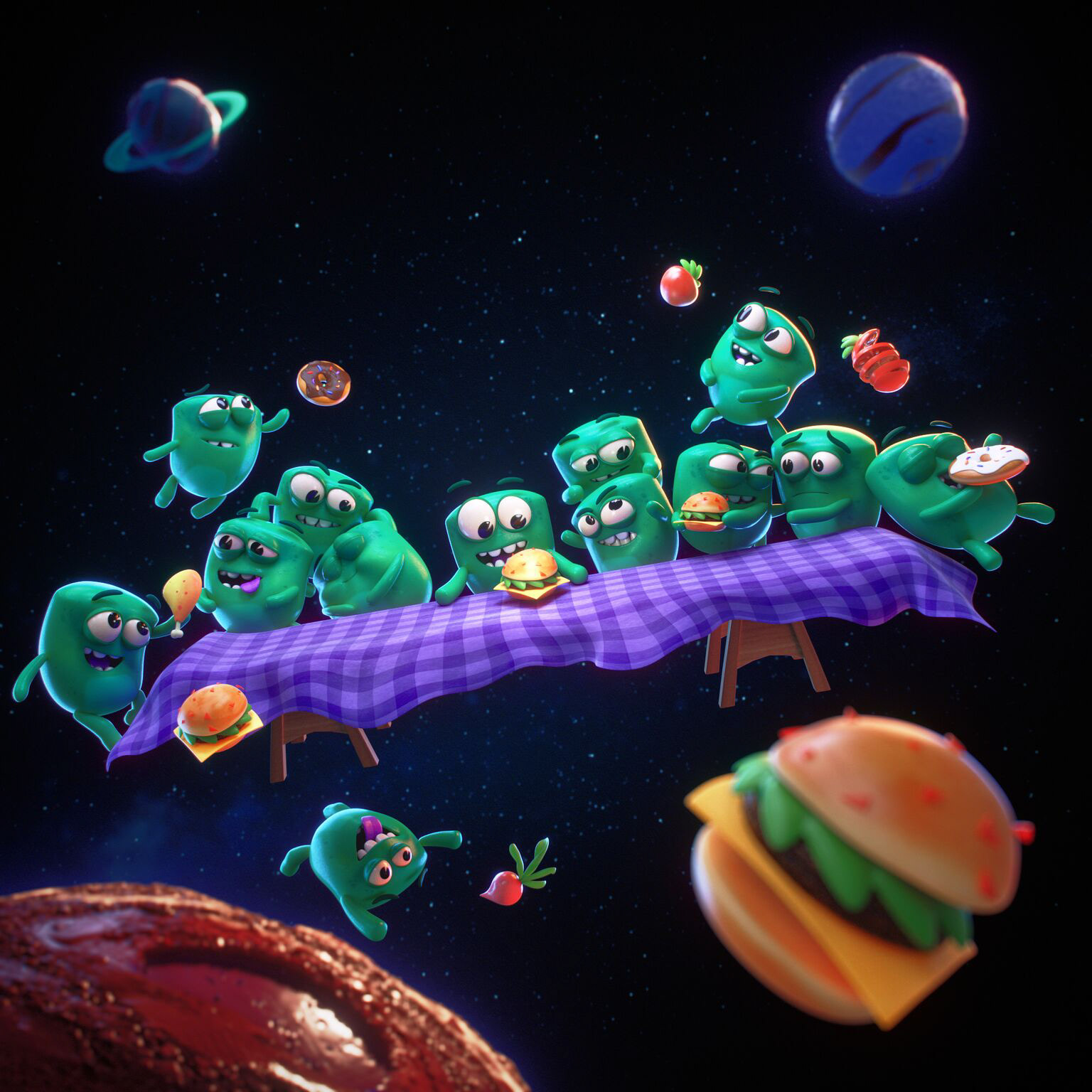 Yum Yummy Superlicious was born out of secret conversations had between renders and very serious client meetings. We whispered, we conspired, and we plotted. For almost a year, we have been creating and re-creating this ridiculously funny and super fun-to-play game.
The Journey began back in 2017, when Tendril pitched Air Goblins, a sweet side-scrolling tower defence / brawler mashup at Ubisoft Toronto's inaugural Indie Game Series. We didn't win that day, but became proud finalists and took an award for Art Direction and Risk Mitigation. We are truly thankful for the insights and mentorship the amazing team at Ubisoft Toronto offered us.
At the awards event, our inner nerds broke free and we threw caution to the wind, embarking on a year-long passion project, crafted with love. We are also indebted to our pals at Capybara Games for their sage advice, friendship and encouragement along the way. And now…it's snack time!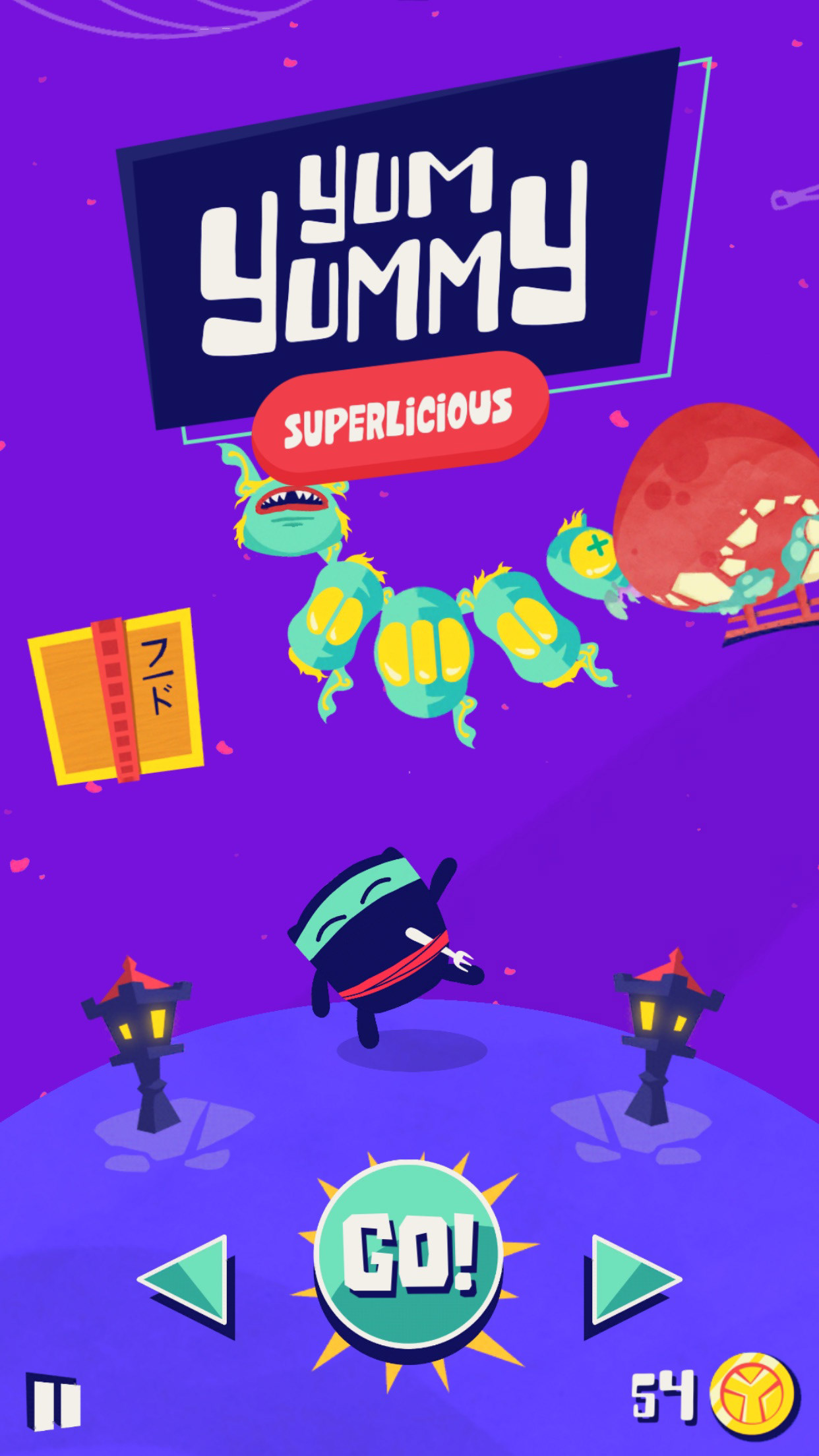 For millennia, Yums led a simple existence among the stars, snoozing lazily on far flung asteroids at the edges of our solar system. They might have gone unnoticed entirely, had humankind not begun it's rapid colonization of the galaxy. Soon the Yum's skies were crisscrossed with passing intergalactic food trucks and delivery convoys, their sides painted with delicious pictures of glistening burgers, spicy tacos and decadent sprinkle encrusted donuts, to say nothing of the smells that drifted down to the Yums! Their hunger was awakened, and it was nothing short of ravenous.
But with no spacecraft, rocket ships, or even a rudimentary understanding of math, how could the Yums ever hope to reach these delicious treats? This buffet would have sadly remained a dream, had one brave Yum not looked deep within itself, strained and pushed with all it's might, and with a mighty *plop!*, was suddenly among the stars! It turns out the power to explore space was inside them all along. Literally. And so, propelled by both their butts and insatiable hunger, the Yum's could finally chow down! Bon appetit, little Yums!
'Not fun enough' we thought, as we hit the reset button again and again. We broke the game many times trying to find the right formula.
Yum Yummy Superlicious started as a meditative space travel experiment, with a small jumping creature that would launch itself between randomly generated planets. Our original concept for a full featured game based off this prototype was to convert the experience into a 360 degree VR puzzle game for the Google Daydream headset, with our Yum creature dashing around the surface of planets collecting food and avoiding obstacles before hopping to the next planet.
While interesting, this VR puzzle game didn't have the "fun" element we were craving. A revisiting of our original prototype to rediscover the magic we started with led to a "reboot" of the entire project, leading to the fast-paced, easy to learn Yum Yummy Superlicious you can play today.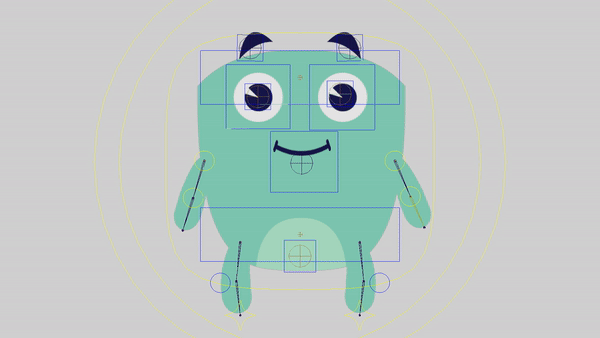 We created countless icons and tested them against a busy grid of colourful apps in order to find the one icon that stood out and felt right.
After months of development, our game was shaping up, but we needed some good marketing materials. With a bit of brainstorming and the help of our 3D team, we brought the in-game characters to life through a series of stills and short animations that offer a more detailed glimpse into the world of Yum Yummy Superlicious.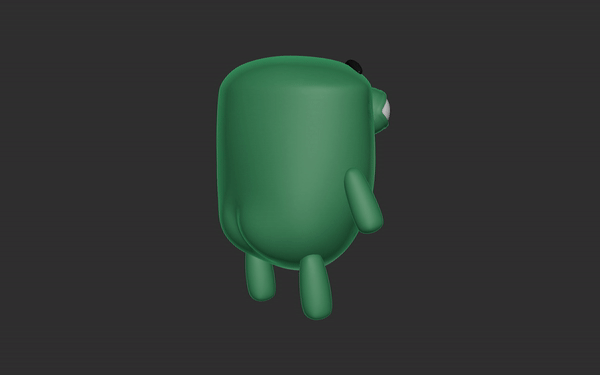 And finally, here's the Official Trailer for Yum Yummy Superlicious! For more information, please visit the Official game site: yumyummy.game
To play right now on iOS, click here. More info on the Android release coming soon.
Yum Yummy Superlicious By Tendril Design and Animation Inc
Creative Director: 

Alexandre Torres
Executive Producers:

Kate Bate and Sarah Arruda
Game Designer: 

Ben Stirling
Producer: 

Brittany Sheahan
Programmers: 

Brian Lefrancois, 
Ben Stirling

 

Ahmed Wageh
Designers: 

Leo Mateus, Rodrigo Rezende, Samuel Bohn, Gabriel Rocha and Runbo Chen
Animators: 

Emilie Muszczak and Tyrel Scott
Editor: 

Oliver Whitfield-Smith
Music & Sound Design: 

Niko Hook
Music Credit: 

"Local Forest", "Monkey Spinning Monkeys", "No Frills Cumbia", "Quirky Dog", "Zazie" Kevin Macleod (Incompetech.com) License Under Creative Commons by Attribution 3.0 http://creativecommons.org.license/by/3.0/